June 13, 2022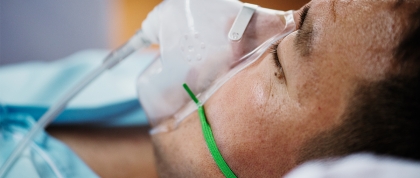 Mari Armstrong-Hough, MPH, PhD, has been awarded a $2.7 million, four-year grant (R01HL157361) from the National Heart, Lung, and Blood Institute, part of the National Institutes of Health. The funding will support research by Dr. Armstrong-Hough and co-PI Dr. Thomas Valley examining disparities in survival of respiratory failure and developing interventions to mitigate inequities in the delivery of care for respiratory failure.
Respiratory failure—a serious condition in which the lungs cannot get enough oxygen into the blood, or cannot remove enough carbon dioxide—is common, deadly, and disabling. People with respiratory failure are often hospitalized or treated in an intensive care unit (ICU), where medication and oxygen are administered, with more severe cases requiring a ventilator to support breathing.
Approximately 750,000 Americans die each year from respiratory failure, and its 2.5 million survivors experience poor physical function and quality of life for years after hospital discharge. But these outcomes are not equally distributed: people of color are significantly less likely to survive respiratory failure, with up to twice the odds of death as non-Hispanic white patients. The COVID-19 pandemic has exacerbated these existing disparities.
"Respiratory failure has touched many of us over the past few years, as COVID-19 took more than a million American lives," said Dr. Armstrong-Hough, an assistant professor in the Department of Social and Behavioral Science and Department of Epidemiology at NYU GPH. "Our work seeks to shed light on how disparities in the delivery of common ICU care practices for respiratory failure, like the use of deep sedation, may contribute to disparities in survival."
To better understand these differences in care and outcomes, the researchers will use data from patients at hundreds of hospitals around the U.S. as well as detailed cohort data following hundreds of survivors of respiratory failure for at least 6 months after discharge. The team will also work with ICU clinicians, patient advocates, and survivors to prototype and evaluate an intervention to promote equitable, evidence-based care for patients with respiratory failure with a particular emphasis on Hispanic patients, who face the highest odds of over-sedation during respiratory failure and the highest odds of death within 90 days.
Dr. Armstrong-Hough and Dr. Valley, a pulmonologist and critical care doctor at the University of Michigan, will lead an interdisciplinary team including researchers from NYU GPH (Drs. Stephanie Cook and Ana Abraido-Lanza), University of Michigan, Oregon Health & Science University, and Johns Hopkins.
Press Contacts
Rachel Harrison
rachel.harrison@nyu.edu
(212) 998-6797