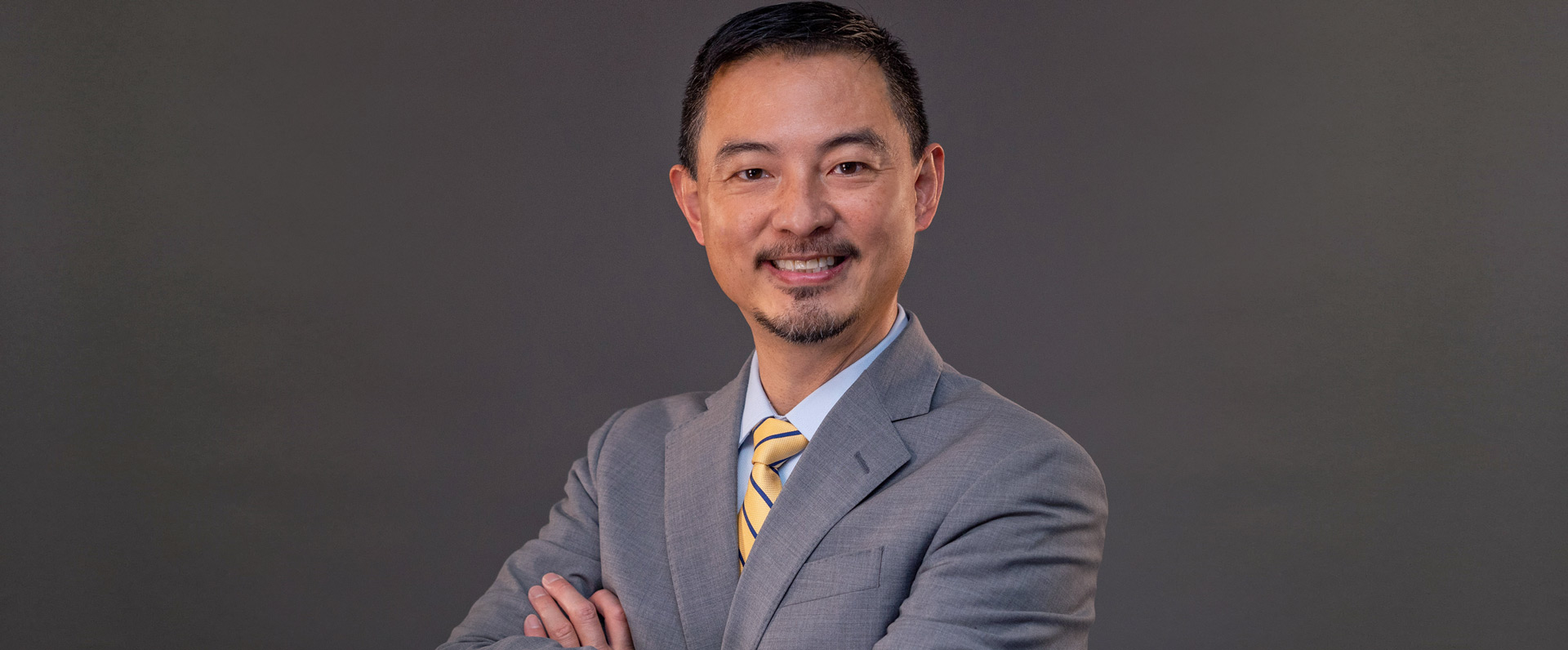 Director of Center for Bioethics
Arthur Zitrin Professor of Bioethics
Dr. Matthew Liao uses the tools of philosophy to study and examine the ramifications of novel biomedical innovations.

A speaker at TEDxCERN, Dr. Liao discussed whether it is ethical for someone to erase certain aspects of their memories and how doing so might affect that individual's identity. He has also given a TED talk in New York and been featured in the New York Times, The Atlantic, The Guardian, and other numerous media outlets.

The author and editor of four books, Dr. Liao provides the academic community with a collection of human rights essays. In The Right to be Loved, he explores the philosophical foundations underpinning children's right to be loved, and proposes that we reconceptualize our policies concerning adoptions so that individuals who are not romantically linked can co-adopt a child together.

Dr. Liao provides students with an education grounded in a broad conception of bioethics encompassing both medical and environmental ethics. He offers students the opportunity to explore the intersection of human rights practice with central domains of public health and regularly teaches normative theory and neuroethics. His courses address how the rightness or wrongness of an act is determined and ethical issues arising out of new medical technologies such as embryonic stem cell research, cloning, artificial reproduction, and genetic engineering; ethical issues raised by the development and use of neuroscientific technologies such as the ethics of erasing traumatic memories; the ethics of mood and cognitive enhancements; and moral and legal implications of "mind-reading" technologies for brain privacy.

To learn more about Dr. Liao and his work, visit his website and blog.

AB, Politics (Magna Cum Laude), Princeton University, Princeton, NJ

DPhil, Philosophy, University of Oxford, Oxford, UK

Outstanding Academic Title, The Right to Be Loved, Choice Review

(

2016

)

TEDx Speaker at CERN, Geneva, Switzerland

(

2015

)

TEDx Speaker, New York, NY

(

2013

)

Humanities Grant Initiative, NYU

(

2011

)

Big Think Delphi Fellow

(

2011

)

Bioethics

Epistemology

Metaphysics

Moral Psychology

Publications

Ethics review of big data research: What should stay and what should be reformed?

Ferretti, A., Ienca, M., Sheehan, M., Blasimme, A., Dove, E. S., Farsides, B., Friesen, P., Kahn, J., Karlen, W., Kleist, P., Liao, S. M., Nebeker, C., Samuel, G., Shabani, M., Rivas Velarde, M., & Vayena, E.

Journal title

BMC Medical Ethics

Abstract

Abstract

Background: Ethics review is the process of assessing the ethics of research involving humans. The Ethics Review Committee (ERC) is the key oversight mechanism designated to ensure ethics review. Whether or not this governance mechanism is still fit for purpose in the data-driven research context remains a debated issue among research ethics experts. Main text: In this article, we seek to address this issue in a twofold manner. First, we review the strengths and weaknesses of ERCs in ensuring ethical oversight. Second, we map these strengths and weaknesses onto specific challenges raised by big data research. We distinguish two categories of potential weakness. The first category concerns persistent weaknesses, i.e., those which are not specific to big data research, but may be exacerbated by it. The second category concerns novel weaknesses, i.e., those which are created by and inherent to big data projects. Within this second category, we further distinguish between purview weaknesses related to the ERC's scope (e.g., how big data projects may evade ERC review) and functional weaknesses, related to the ERC's way of operating. Based on this analysis, we propose reforms aimed at improving the oversight capacity of ERCs in the era of big data science. Conclusions: We believe the oversight mechanism could benefit from these reforms because they will help to overcome data-intensive research challenges and consequently benefit research at large.

The Place of Philosophy in Bioethics Today

A critique of some recent victim-centered theories of nonconsequentialism

Ethics of artificial intelligence

Abstract

Abstract

Featuring seventeen original essays on the ethics of artificial intelligence (AI) by today's most prominent AI scientists and academic philosophers, this volume represents state-of-the-art thinking in this fast-growing field. It highlights central themes in AI and morality such as how to build ethics into AI, how to address mass unemployment caused by automation, how to avoid designing AI systems that perpetuate existing biases, and how to determine whether an AI is conscious. As AI technologies progress, questions about the ethics of AI, in both the near future and the long term, become more pressing than ever. Should a self-driving car prioritize the lives of the passengers over those of pedestrians? Should we as a society develop autonomous weapon systems capable of identifying and attacking a target without human intervention? What happens when AIs become smarter and more capable than us? Could they have greater than human-level moral status? Can we prevent superintelligent AIs from harming us or causing our extinction? At a critical time in this fast-moving debate, thirty leading academics and researchers at the forefront of AI technology development have come together to explore these existential questions.

The moral status and rights of artificial intelligence

Designing humans: A human rights approach

Abstract

Abstract

Advances in genomic technologies such as CRISPR‐Cas9, mitochondrial replacement techniques, and in vitro gametogenesis may soon give us more precise and efficient tools to have children with certain traits such as beauty, intelligence, and athleticism. In this paper, I propose a new approach to the ethics of reproductive genetic engineering, a human rights approach. This approach relies on two claims that have certain, independent plausibility: (a) human beings have equal moral status, and (b) human beings have human rights to the fundamental conditions for pursuing a good life. I first argue that the human rights approach gives us a lower bound of when reproductive genetic engineering would be permissible. I then compare this approach with other approaches such as the libertarian, perfectionist, and life worth living approaches. Against these approaches, I argue that the human rights approach offers a novel, and more plausible, way of assessing the ethics of reproductive genetic engineering.

Current controversies in bioethics

O'Neil, C., & Liao, S. M.

Do mitochondrial replacement techniques affect qualitative or numerical identity?

Abstract

Abstract

Mitochondrial replacement techniques (MRTs), known in the popular media as 'three-parent' or 'three-person' IVFs, have the potential to enable women with mitochondrial diseases to have children who are genetically related to them but without such diseases. In the debate regarding whether MRTs should be made available, an issue that has garnered considerable attention is whether MRTs affect the characteristics of an existing individual or whether they result in the creation of a new individual, given that MRTs involve the genetic manipulation of the germline. In other words, do MRTs affect the qualitative identity or the numerical identity of the resulting child? For instance, a group of panelists on behalf of the UK Human Fertilisation and Embryology Authority (HFEA) has claimed that MRTs affect only the qualitative identity of the resulting child, while the Working Group of the Nuffield Council on Bioethics (NCOB) has argued that MRTs would create a numerically distinct individual. In this article, I shall argue that MRTs do create a new and numerically distinct individual. Since my explanation is different from the NCOB's explanation, I shall also offer reasons why my explanation is preferable to the NCOB's explanation.

Neuroscience and Ethics: Assessing Greene's Epistemic Debunking Argument Against Deontology

Journal title

Experimental Psychology

Abstract

Abstract

A number of people believe that results from neuroscience have the potential to settle seemingly intractable debates concerning the nature, practice, and reliability of moral judgments. In particular, Joshua Greene has argued that evidence from neuroscience can be used to advance the long-standing debate between consequentialism and deontology. This paper first argues that charitably interpreted, Greene's neuroscientific evidence can contribute to substantive ethical discussions by being part of an epistemic debunking argument. It then argues that taken as an epistemic debunking argument, Greene's argument falls short in undermining deontological judgments. Lastly, it proposes that accepting Greene's methodology at face value, neuroimaging results may in fact call into question the reliability of consequentialist judgments. The upshot is that Greene's empirical results do not undermine deontology and that Greene's project points toward a way by which empirical evidence such as neuroscientific evidence can play a role in normative debates.

Précis for The Right to Be Loved

Journal title

Philosophy and Phenomenological Research

The ethics of memory modification

Liao, S. M. In The Routledge Handbook of Philosophy of Memory.

Are Intuitions Heuristics?

Biological Parenting as a Human Right

Journal title

Journal of Moral Philosophy

Abstract

Abstract

Do biological parents have the right to parent their own biological children? It might seem obvious that the answer is yes, but the philosophical justification for this right is uncertain. In recent years, there has been a flurry of philosophical activity aimed at providing fresh justifications for this right. In this paper, I shall propose a new answer, namely, the right to parent one's own biological children is a human right. I call this the human rights account of parental rights and I shall explain how this account is better than these other alternatives.

Health (care) and human rights: a fundamental conditions approach

Journal title

Theoretical Medicine and Bioethics

Abstract

Abstract

Many international declarations state that human beings have a human right to health care. However, is there a human right to health care? What grounds this right, and who has the corresponding duties to promote this right? Elsewhere, I have argued that human beings have human rights to the fundamental conditions for pursuing a good life. Drawing on this fundamental conditions approach of human rights, I offer a novel way of grounding a human right to health care.

Human Rights and Public

Liao, S. M. In Oxford Handbook on Public Health Ethics.

Moral brains: the neuroscience of morality

Morality and Neuroscience: Past and Future

Liao, S. M. In Moral brains.

The Closeness Problem and the Doctrine of Double Effect: A Way Forward

Journal title

Criminal Law and Philosophy

Abstract

Abstract

A major challenge to the Doctrine of Double Effect (DDE) is the concern that an agent's intention can be identified in such a fine-grained way as to eliminate an intention to harm from a putative example of an intended harm, and yet, the resulting case appears to be a case of impermissibility. This is the so-called "closeness problem." Many people believe that one can address the closeness problem by adopting Warren Quinn's version of the DDE, call it DDE*, which distinguishes between harmful direct agency and harmful indirect agency. In this paper, I first argue that Quinn's DDE* is just as vulnerable to the closeness problem as the DDE is. Second, some might think that what we should therefore do is give up on intentions altogether and move towards some kind of non-state-of-mind, victim-based deontology. I shall argue against this move and explain why intentions are indispensable to an adequate nonconsequentialist theory. Finally, I shall propose a new way of answering the closeness problem.

The Grounds of Ancillary Care Duties

Liao, S. M., & O'Neil, C. In Current Controversies in Bioethics.

Human Rights as Fundamental Conditions for a Good Life

Liao, S. M. In Philosophical Foundations of Human Rights,.

Philosophical foundations of human rights

Cruft, R., Renzo, M., & Liao, S. M. (First edition.).

The Philosophical Foundations of Human Rights: An Overview

Liao, S. M., Cruft, R., & Renzo, M. In Philosophical Foundations of Human Rights.

Editorial

Journal title

Journal of Moral Philosophy

The right of children to be loved

Liao, S. M. In What is Right for Children?.