On Friday, March 8, students, staff, and faculty alike gathered for the annual Zero Hunger Cooking Challenge, an event that aims to address the United Nations' Sustainable Development Goal #2: achieving food security, ending hunger, improving nutrition, and promoting sustainable agriculture. Globally, 1 in 9 people are undernourished, the vast majority of these people live in developing countries.  In 2015, 17 Sustainable Development Goals or SDGs were put forth by the UN, which are a universal call to action to end poverty and hunger, to maximize human and planetary health. Research shows that women and children are disproportionately at risk for malnutrition as they often eat last and least in many parts of the world.
During this years' Cooking Challenge, which was held on International Women's Day, participants organized into five teams representing Egypt, Hawai'i (U.S.), Korea, Sri Lanka, and Turkey. In a race against the clock, teams worked together to prepare nutritious, sustainable meals while incorporating local ingredients and culture.
The event was led by the Co-Directors of the Public Health Nutrition MPH Program, Dr. Joyce O'Connor and Dr. Niyati Parekh, in collaboration with Dr. Danielle Ompad as Chair of the NYU GPH Delta Omega Society Chapter and Chef Lourdes Castro.
Dean Cheryl G. Healton, Dr. Julie Avina, alumna and dietician Beth Bainbridge, and Chef Lourdes Castro participated as this year's judges. Teams took home the following awards: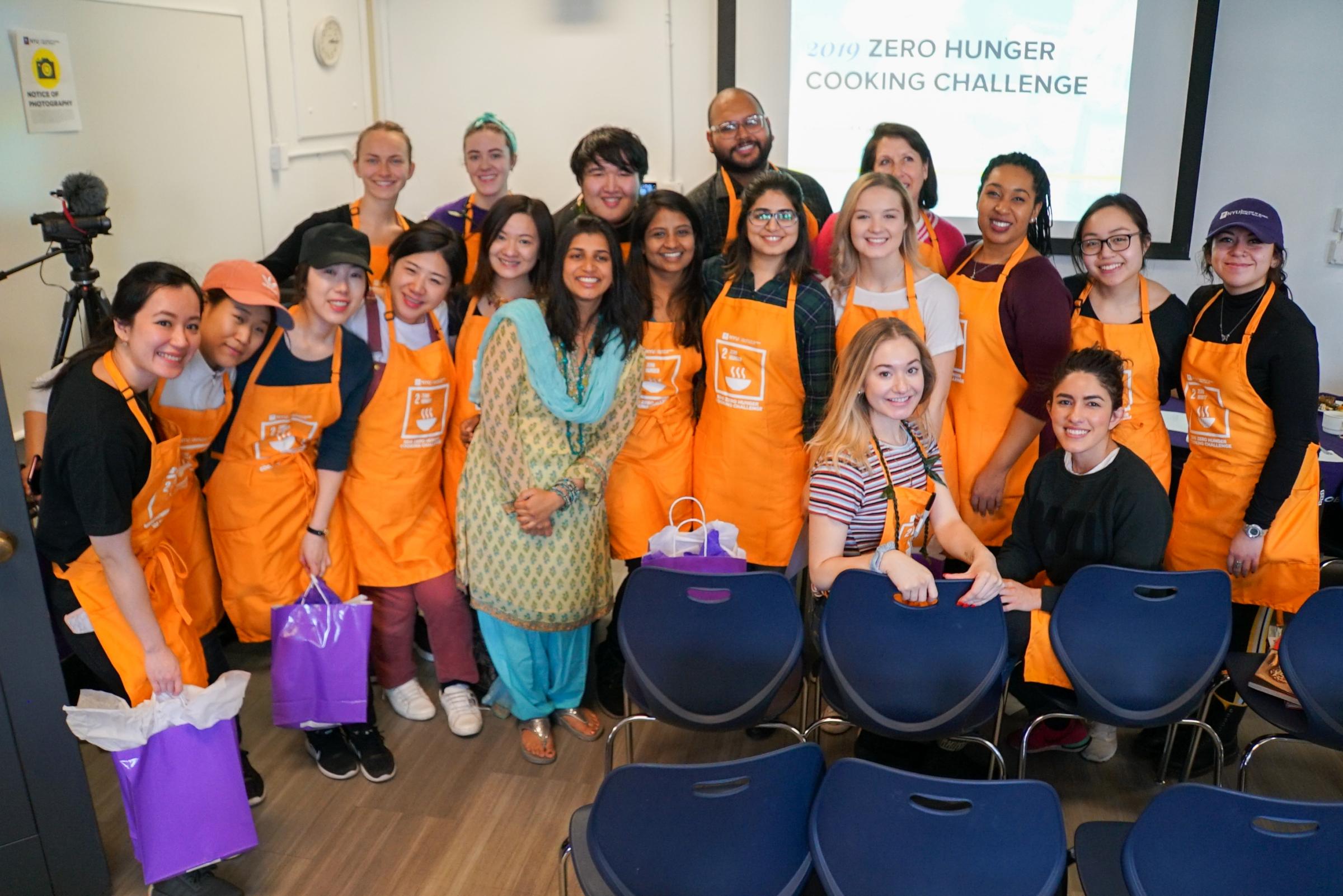 Winner, overall: Team Korea
Dr. Ji Eun Chang (team mentor), Lauren Dozier, Yeerae Kim, Celyn Ng, Jihye Yang
Best Tasting Menu: Team Hawai'i
Dr. Danielle Ompad (team mentor), Ethan Gabbour, Naomi Heisler, Chelsea Mangold, Carla Seet, Sneha Vanama
Best Use of Local Ingredients and Culture: Teams Egypt and Sri Lanka (tied)
Team Egypt: Salma Elmehdawi (team mentor), Sophie Byer, Amy Ellithorpe, Haley Knauer, Mandy Lin, Patty Medina
Team Sri Lanka: Ananda Dasanyake (team mentor), Usha DeSilva (team mentor), Cheryl Liang, Jackie Litvak, Charu Madhwani, Snow Phyu, Simon Sandh
Nutritional Value of Meal: Team Turkey
Dr. Yesim Tozan (team mentor), Nino Asaro, Tatiana Bush, Amber McLeod, Bridget Murphy, Courtney Watson