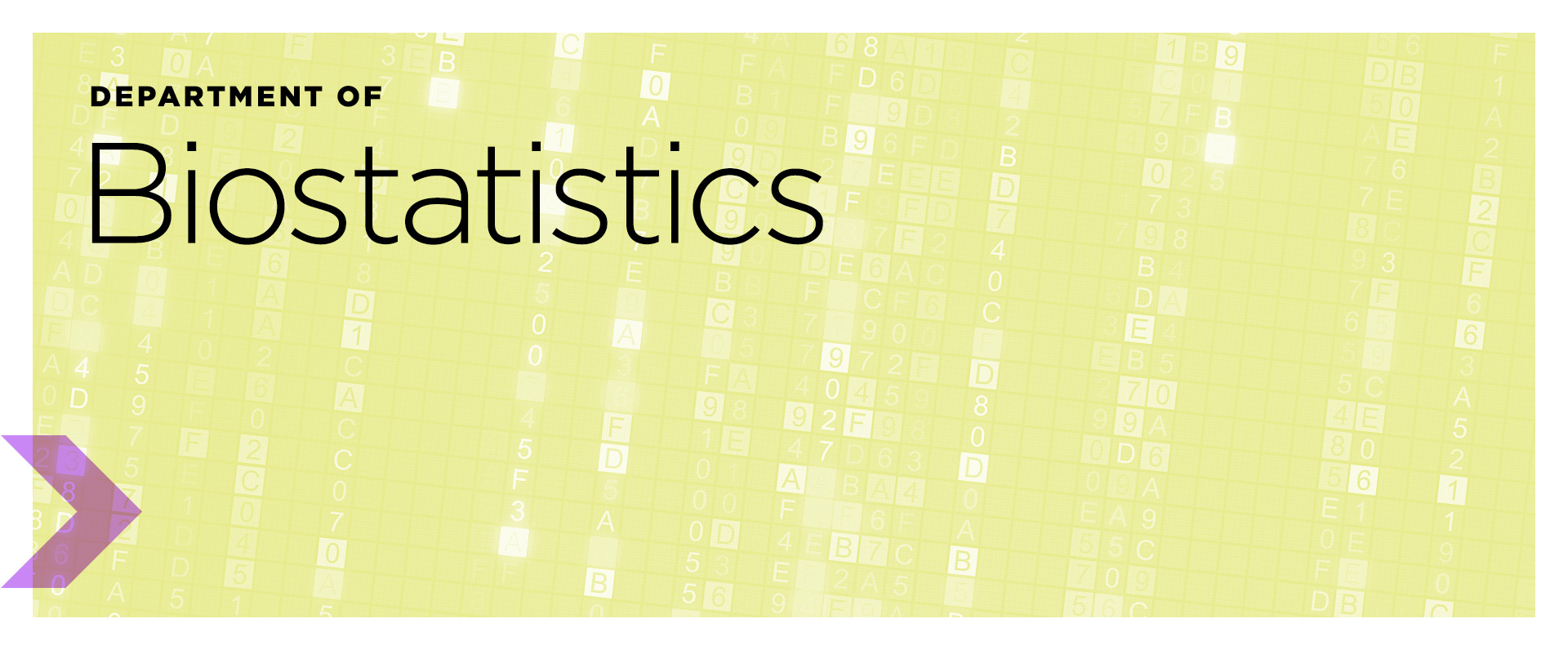 About the Department
Department of Biostatistics at NYU GPH is engaged in three inter-related activities that aim to improve Public Health through rigorous research and that educate future practitioners, leaders and researchers.  We strive for excellence in:
innovative and groundbreaking methodological research that is relevant to critical Public Health research
collaborative research in pressing and important Public Health issues;
education and training of students from diverse backgrounds in cutting edge statistical methods for design and analysis of studies used in Public Health research, as well as theoretical foundations that will serve as the basis for future innovations. 
We are experiencing major events in Public Health and Biostatistics has many critical contributions to make.  We welcome you to our department and invite you to explore all of our facets in these webpages.
On March 10th, 2023, our department's Dr. Melody Goodman was part of UCLA's Distinguished Quarterly Speaker Series in a panel discussion titled "Together We Can Move Mountains" - A Panel Discussion to Profile Emerging Centers Targeting the Health Implications of Racism (Register, Flyer)
On February 28th, 2023, Dr. Melody Goodman was part of a panel in the NISS Leadership Webinar Series on the topic "Social Justice & Community Leadership" (link).
On February 22nd, 2023, Dr. Stephanie Cook was part of the CASJPH & BWHC Black History Month Panel: "Woman to Woman: A Conversation on Turning History into Victory".

Third-year PhD student

Zoé Haskell-Craig

 recently gave the keynote presentation, "AI for Public Health: The Promises and Perils of using AI for public health", at

 the AI for Public Health Workshop in Ontario.
On February 7th, 2023, our department's Dr. Rumi Chunara participated in a panel discussion on "Why do Algorithmic & Moderation Biases Exist?" at the American Influencer Council's (AIC) kick off BHM on the 20th anniversary of safer internet day. A recording of this event can be found here.  

In recognition of Black History Month, our department's

Dr. Stephanie Cook

is featured in the February edition of

AMSTAT News

.

Our department's Drs. Rumi Chunara and Stephanie Cook are co-authors of 

"Structural racism and homophobia evaluated through social media sentiment combined with activity spaces and associations with mental health among young sexual minority men"

, recently published on ScienceDirect.com.
Our department's Dr. Melody Goodman recently co-authored the Sage Journals Environmental Health Insights cover story,

"Racial and Ethnic Composition of Students, Graduates, and Faculty in Environmental Health Sciences, 2011 to 2021".

Our department chair, Dr. Rebecca Betensky, has been chosen as the 2023 President-Elect of the New England Statistical Society (NESS).

(Archived news items)
Student Life
Wednesday, March 15th, 5:30 - 7:30pm EDT
Movie night, viewing feature film "Hidden Figures", in celebration of Black History Month (February) and Women's History Month (March) (Flyer, RSVP)
Biostatistics Seminar Series
Wednesday, March 29th, 2:00 - 3:00pm EST
"The real challenge facing applied statisticians, data scientists, analysts", to be presented by US Census Bureau director Rob Santos (RSVP)
Student Meeting with Guest Speaker
Wednesday, March 29th, 3:15 - 4:00pm EST
"Fireside Chat" with US Census Bureau director Rob Santos for NYU Biostatistics & Statistics students (RSVP)
Check Out Our Past Seminars & Events
Christopher Park, MPH '19
"Critical and conceptual understanding of data is necessary for public health research. My biostatistics courses have helped me to develop statistical analytic skills that shape the way I think about data management and utilization in a way that's fit for public health discoveries."
Ejiro Gbaje, MPH '19
"I am fascinated by the power of biostatistics; it uses mathematics to paint pictures of underlying conditions."
Yan Zhang, MPH '19
"The ability to extract health-related patterns from uncertainty is the undeniable beauty of biostatistics."