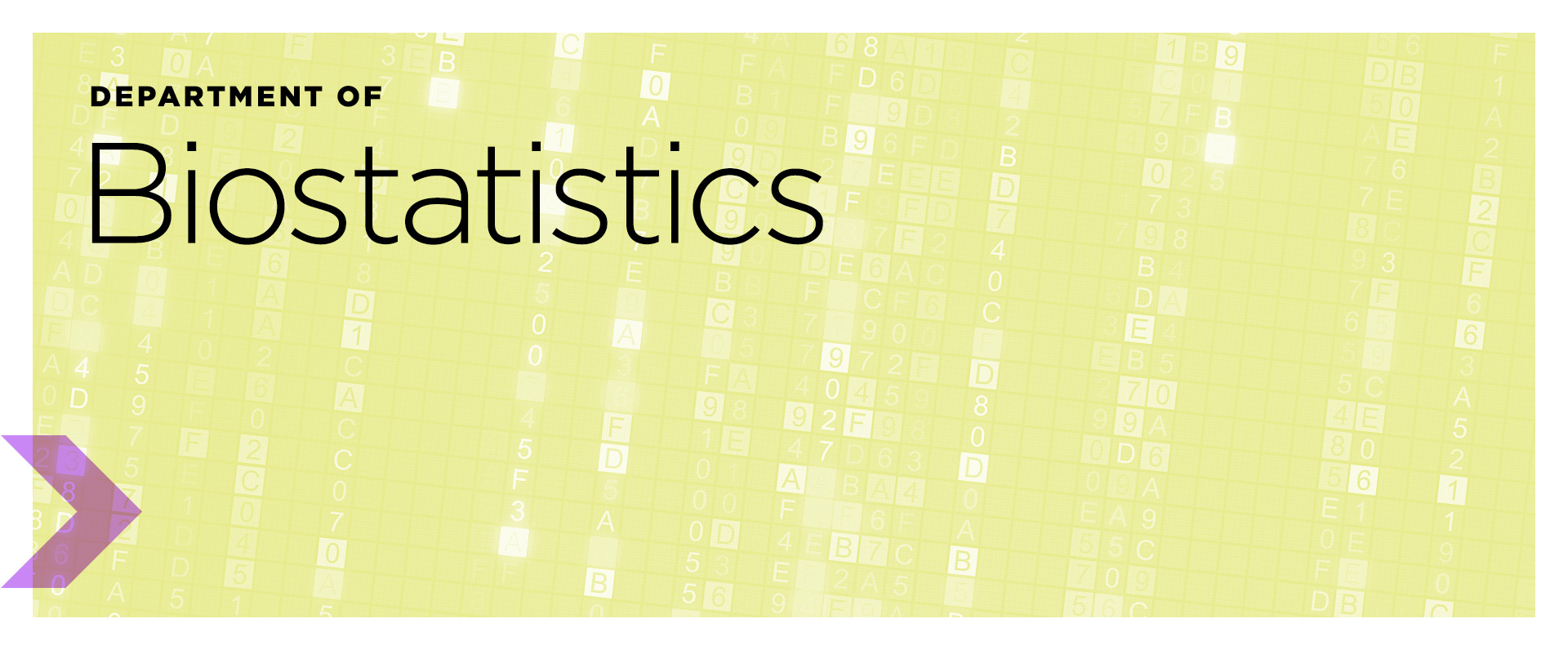 We are offering COVID-19 Biostatistical Consultations
The Biostatistics Department at the NYU School of Global Public Health is offering statistical consulting for COVID-19 related research projects.  We can help with study design, data analysis, machine learning, survey design, observational studies, prediction modeling, and many other methods.
There is no charge for this service; we will prioritize projects according to our availability and expertise.
Please fill out this form with your details and request.
For updates on all of our department's research efforts in response to COVID-19, please visit our COVID-19 Research page.
---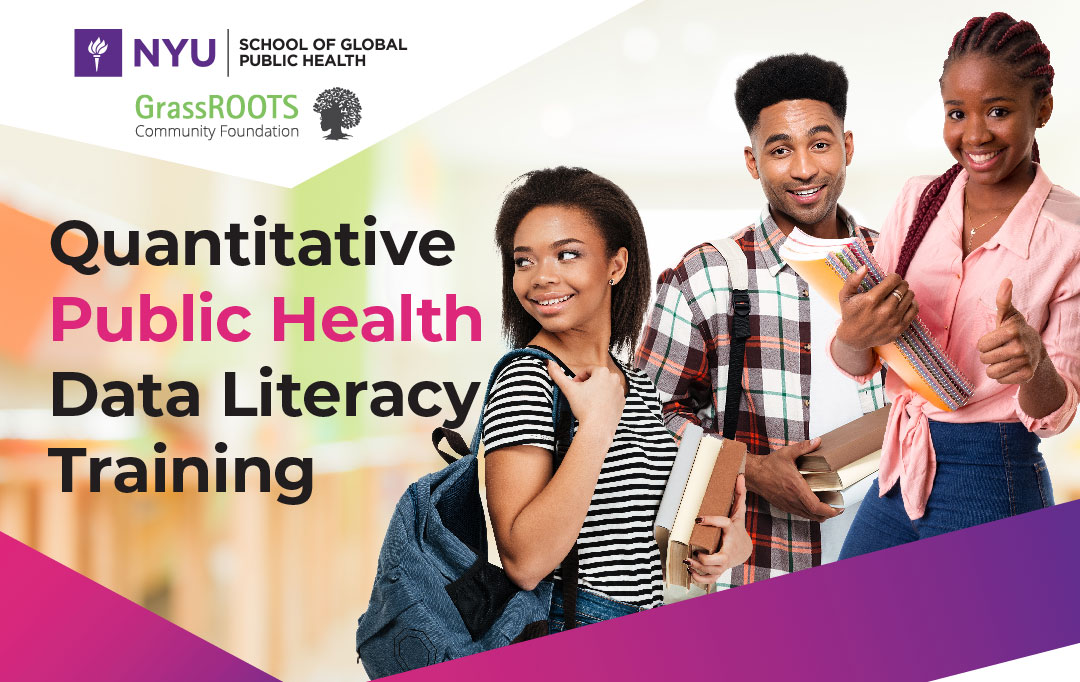 Quantitative Public Health Data Literacy Training program
NYU School of Global Public Health and the GrassROOTS Community Foundation are collaborating to provide a FREE 4 week statistical training program! Intended for high school students (9-12 graders) and undergraduates, the Quantitative Public Health Data Literacy Training program is a great opportunity for students to develop computing and analytic skills in today's popular statistical programs through the public health lens. We highly encourage students attending community colleges, minority serving institutions or historically black colleges and universities to apply.  
Click below to apply to the program. Deadline is Monday, July 6.
Apply for the Quantitative Public Health Data Literacy Training
---
Department News
Drs. Rumi Chunara and Stephanie Cook's article, "Using digital data to protect and promote the most vulnerable in the fight against COVID-19", has been accepted for publication by Frontiers in Public Health.
Dr. Shu Xu's pilot study on causal mediation analysis of Population Assessment of Tobacco and Health (PATH) data has been selected for funding by the Center for Assessment of Tobacco Regulations.
Our department is offering five new short 1-credit courses this summer (to GPH and to outside students), the majority of which are specifically designed to help students address public health challenges presented by the COVID-19 pandemic. A summary of these courses can be found here including tentative schedule details; please see below for each course's syllabus:
Congratulations to the Class of 2020! Our graduates have done incredible work with their theses, much of which can now be seen and accessed on our Research page. In addition, we recently held a Virtual Poster Session, where three of our graduates presented their work; a video recording can be found here.
Dr. Rumi Chunara has co-authored three recently published articles:

"One Size Doesn't Fit All: When collecting COVID-19 data and modeling epidemic curves, we need to take more into account - in Africa and elsewhere" (Think Global Health)
"COVID-19 transforms health care through telemedicine: evidence from the field" (JAMIA)
"Comparison of Social Media, Syndromic Surveillance, and Microbiologic Acute Respiratory Infection Data: Observational Study" (JMIR Public Health and Surveillance)

Dr. Stephanie Cook is acting as co-investigator on a recently funded study, "Stress and Coping among Firefighters on the Frontlines of the COVID-19 Pandemic: Testing a Mindfulness Intervention". She is also acting as principal investigator on the recently funded study, "Optimizing a Daily Mindfulness Intervention to Reduce Stress from Discrimination among Sexual and Gender Minorities of Color".
Dr. Melody Goodman was recently interviewed for a segment about COVID-19 rates in northeast Queens which aired on NY1.
Drs. Rebecca Betensky and Yang Feng recently published a preprint copy of their COVID-19-minded article, "Accounting for incomplete testing in the estimation of epidemic parameters", on medRxiv.
Our department's Dr. Yang Feng recently had his essay on the effect of social distancing on coronavirus transmission published in NY Daily.
Due to the outbreak of COVID-19 and its impact on the university, our 4/17 symposium, Statistical Significance: Current and Future Directions, has been postponed until the Fall semester. We appreciate your understanding, and we will provide more detailed updates as they become available.
Our PhD concentration in Biostatistics has been officially approved by the state of New York.
Dr. Melody Goodman was recently featured as Scientist of the Day by NIH.

(Archived news items)
All previously scheduled Spring 2020 offerings have passed, but we are working on further remote offerings and will add them here as details become available. In the meantime, please see below for video recordings of our recent events:
Biostatistics Department Virtual Poster Session (a remote presentation of theses by Class of 2020 graduates Yanjun Cheng, MS; Tanmik Shah, MPH; Carolyn Winskill, MS)
Biostatistics Seminar Series: Introduction to Infectious Disease Modeling, with Drs. Erez Hatna and Joshua Epstein
Professional Development Series: Discussion of PhD programs in Biostatistics
Professional Development Series: Chuck Huber - Introduction to Causal Inference & Survival Analysis Using Stata (Event Abstract, Speaker Info)
About the department
Department of Biostatistics at NYU GPH is engaged in three inter-related activities that aim to improve Public Health through rigorous research and that educate future practitioners, leaders and researchers.  We strive for excellence in:
innovative and groundbreaking methodological research that is relevant to critical Public Health research
collaborative research in pressing and important Public Health issues;
education and training of students from diverse backgrounds in cutting edge statistical methods for design and analysis of studies used in Public Health research, as well as theoretical foundations that will serve as the basis for future innovations. 
Christopher Park, MPH '19
"Critical and conceptual understanding of data is necessary for public health research. My biostatistics courses have helped me to develop statistical analytic skills that shape the way I think about data management and utilization in a way that's fit for public health discoveries."