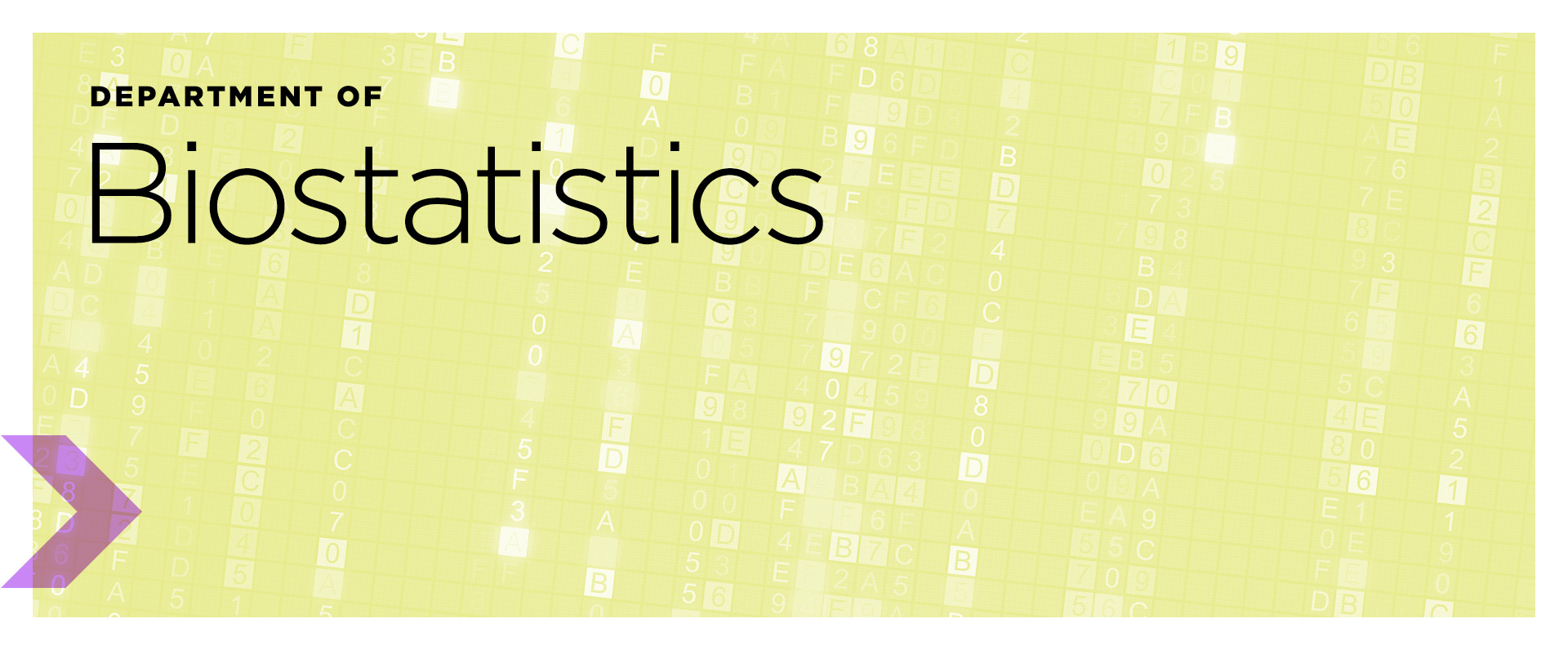 About the Department
Department of Biostatistics at NYU GPH is engaged in three inter-related activities that aim to improve Public Health through rigorous research and that educate future practitioners, leaders and researchers.  We strive for excellence in:
innovative and groundbreaking methodological research that is relevant to critical Public Health research
collaborative research in pressing and important Public Health issues;
education and training of students from diverse backgrounds in cutting edge statistical methods for design and analysis of studies used in Public Health research, as well as theoretical foundations that will serve as the basis for future innovations. 
We are experiencing major events in Public Health and Biostatistics has many critical contributions to make.  We welcome you to our department and invite you to explore all of our facets in these webpages.
Several of our department's faculty and alumni are leading or taking part in presentations at the APHA 2022 Annual Meeting & Expo:
Our department's Dr. Stephanie Cook has been named one of the 2023 NYU James Weldon Johnson professors. This NYU award recognizes "scholarship with far-reaching impact in the areas of social justice, inequality, criminal justice reform, and related topics".
We would like to congratulate Dr. Melody Goodman on her appointment to the ASA JEDI Outreach Group chair-elect for 2023. She will step into the role of chair in 2024.

Our department is featured in

the November 2022 edition of 

 AmstatNews; department chair Dr. Rebecca Betensky and faculty members Drs. Rumi Chunara, Stephanie Cook, and Melody Goodman were 

interviewed for their JEDI efforts.

Our department's Dr. Melody Goodman recently co-authored the Amstat News cover story, "

Data Literacy as a Tool for Community Health and Social Justice

".

Several of our recent graduates and other alumni have recently been accepted to PhD programs - we congratulate them and the many others who have received job placements, many of which you can find on our Where Your Degree Can Take You page. Below are several of these recent PhD acceptances:

PhD in Biostatistics at Indiana University - Purdue University Indianapolis
PhD in Biostatistics at University of California, Los Angeles
PhD at University of Texas Health Science Center, School of Public Health
PhD in Biostatistics at the NYU School of Global Public Health
PhD in Epidemiology & Biostatistics at the Indiana University Bloomington School of Public Health
PhD Program in Health and Biomedical Data Science (concentration: Applied Biostatistics), George Washington University
PhD in Biostatistics at University of Southern California
PhD in Biostatistics at the University of Colorado, School of Public Health
PhD in Biostatistics, Medical University of South Carolina
PhD in Biostatistics and Data Science at UT Health

We are excited to welcome new PhD candidates, Taehyo Kim and Jianan Zhu, to our department starting in Fall 2022!

(Archived news items)
Biostatistics Seminar Series
Tuesday, November 22nd, 12:30-1:30pm EST
"Causal Inference on Distribution Functions", to be presented by Dr. Zhenhua Lin of the National University of Singapore (Flyer, RSVP)
Professional Development Series
Tuesday, November 29th, 11:00am-12:00pm EST
"Data Visualization with Tableau", to be presented by Denis Rubin, Senior Academic Technology Specialist and Quantitative Lead at NYU Libraries
Biostatistics Seminar Series
Thursday, December 1st, 12:00-1:00pm EST
"Flexible Regression Models for Dispersed Count Data", to be presented by Dr. Kimberly Sellers of Georgetown University (Flyer, RSVP)
Biostatistics Journal Club
Tuesday, December 13th, 12:30-2:00pm EST
Article and discussion leader TBD
Check Out Our Past Seminars & Events
Christopher Park, MPH '19
"Critical and conceptual understanding of data is necessary for public health research. My biostatistics courses have helped me to develop statistical analytic skills that shape the way I think about data management and utilization in a way that's fit for public health discoveries."
Ejiro Gbaje, MPH '19
"I am fascinated by the power of biostatistics; it uses mathematics to paint pictures of underlying conditions."
Yan Zhang, MPH '19
"The ability to extract health-related patterns from uncertainty is the undeniable beauty of biostatistics."