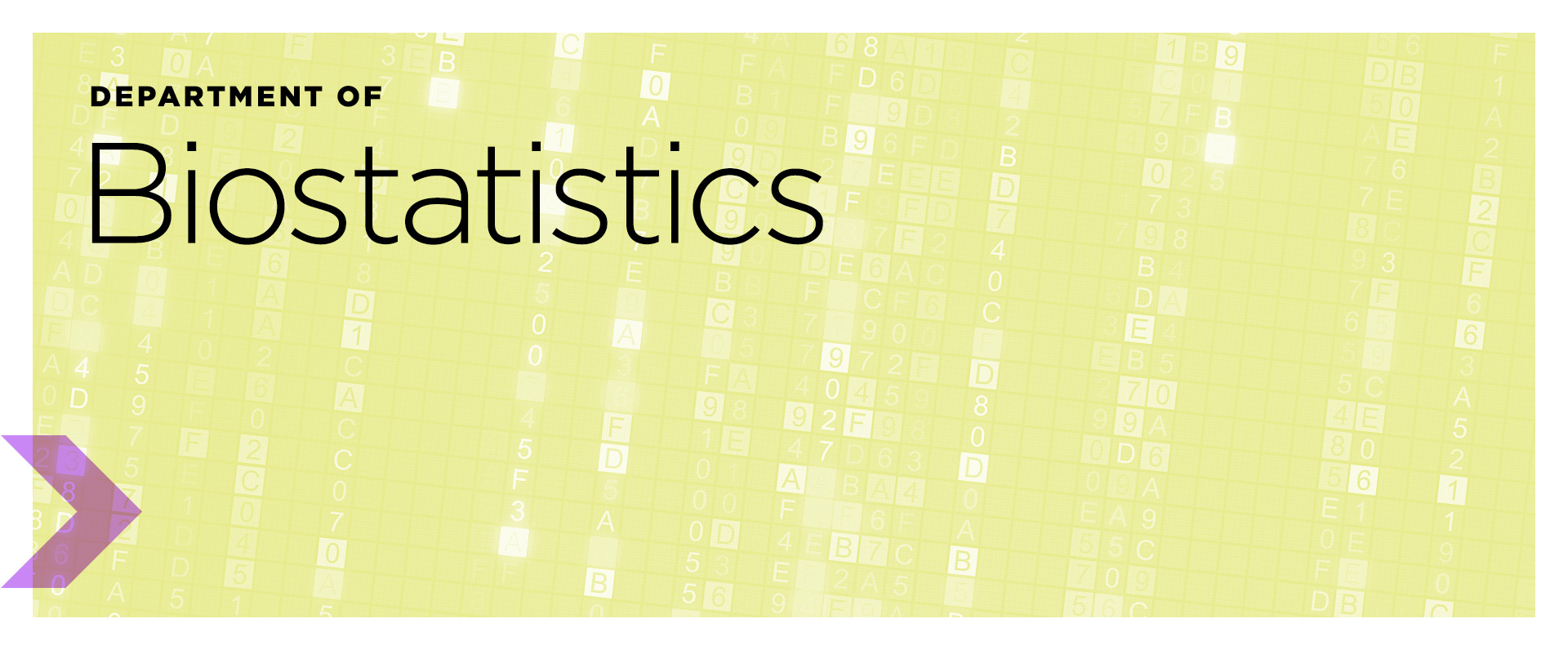 About the Department
Department of Biostatistics at NYU GPH is engaged in three inter-related activities that aim to improve Public Health through rigorous research and that educate future practitioners, leaders and researchers.  We strive for excellence in:
innovative and groundbreaking methodological research that is relevant to critical Public Health research
collaborative research in pressing and important Public Health issues;
education and training of students from diverse backgrounds in cutting edge statistical methods for design and analysis of studies used in Public Health research, as well as theoretical foundations that will serve as the basis for future innovations. 
We are experiencing major events in Public Health and Biostatistics has many critical contributions to make.  We welcome you to our department and invite you to explore all of our facets in these webpages.
This year Dr. Yang Feng has been elected to become an American Statistical Association fellow. We are happy to announce this prestigious achievement! Check out the fellows for this year here. 
Congratulations to PhD student Zoé Haskell-Craig who will join the 2022 NYU Urban Doctoral Fellowship Program cohort!
Our department is currently seeking applications for a new Clinical Associate Professor position, the primary focus of which will be the development and direction of a new Biostatistical Collaboration and Consulting Core.
A paper resulting from one of the projects supported by our consulting lab, "Sex and Race Differences in the Evaluation and Treatment of Young Adults Presenting to the Emergency Room with Chest Pain" (primary author: Darcy Banco, MD), has been accepted for publication in the Journal of the American Heart Association. MS alumni Xinlin Lu and Siyuan Dong, alongside current MS student Yukun Lu, provided statistical support on this study.
On Monday, April 4th at 2pm, the GPH Center for Anti-Racism, Social Justice, and Public Health - founded and directed by our department's Dr. Melody Goodman - will be hosting a talk by Dr. Marie Bernard, "How Does Diversity Help Science? The Viewpoint from NIH".
To celebrate Black History Month, the Caucus for Women in Statistics (CWS) hosted a virtual panel on the Experiences of Black Statisticians and Data Scientists on Wednesday, February 23. CWS invited Dr. Melody Goodman, as well as Jessica Lyon (Senior Manager, Tableau for Teaching) and Dr. Brittany Green (Assistant Professor, University of Louisville) to speak on their experiences of being black statisticians. The conversation was moderated by Nairanjana (Jan) Dasgupta, the current President of CWS and Tomi Mori (the past President of CWS).  Learn more about the event here.
Our department's Dr. Stephanie Cook is a 2022 recipient of the prestigious Dr. Martin Luther King, Jr. Faculty Award! 
The Dr. Martin Luther King, Jr. Faculty Award recognizes outstanding faculty who exemplify the spirit of Dr. Martin Luther King, Jr.'s scholarship, life, and justice work and who promote the principles and ethos of Dr. King's extensive global contributions in their research, teaching, leadership, and/or community-building efforts. These awards are of particular significance as they are driven by students. 
In celebration of Black History Month, AMSTAT News has recognized the innovative mathematical statistician Annie T. Randall, along with 11 individuals from the Black/African American collective who have made tremendous contributions to the statistics field - including our department's own Dr. Melody Goodman.
Dr. Melody Goodman recently gave a presentation at NIH Rural Health Seminar Day discussing the value of measuring and evaluating stakeholder engagement and its potential for informing community engagement in research, to a live remote audience of over 1200 people.
(Archived news items)
Biostatistics Journal Club
Tuesday, April 19th, 12:30-1:30pm EDT
Check Out Our Past Seminars & Events
Christopher Park, MPH '19
"Critical and conceptual understanding of data is necessary for public health research. My biostatistics courses have helped me to develop statistical analytic skills that shape the way I think about data management and utilization in a way that's fit for public health discoveries."
Ejiro Gbaje, MPH '19
"I am fascinated by the power of biostatistics; it uses mathematics to paint pictures of underlying conditions."
Yan Zhang, MPH '19
"The ability to extract health-related patterns from uncertainty is the undeniable beauty of biostatistics."