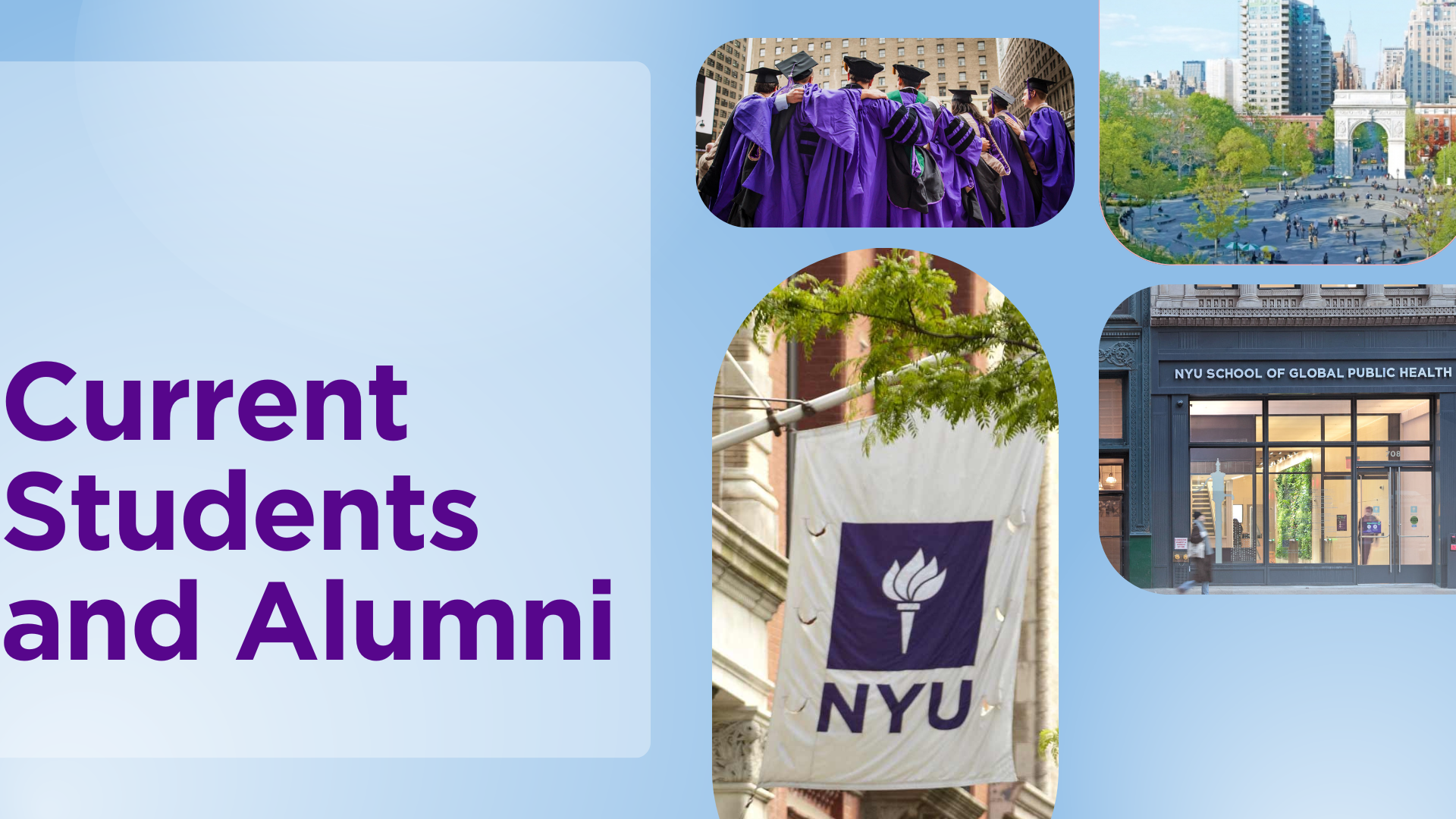 NYU, GPH, and Departmental Resources
Curriculum and Program Information
Where Your Degree Can Take You
Click here to see our career hub relevant to students and graduates.
 Job Opportunities
Click

here

for a list of active job opportunities in the fields of biostatistics and data science.
Requesting Letters of Recommendation
To simplify the process of requesting a letter of recommendation from our faculty, and to be sure that our faculty have all of the information needed to write a requested letter, we've put together a

Google Form

that can be used for most such requests.

You must first reach out and confirm with the faculty member(s) directly that they will be able to write a letter for you before submitting this form.

Please note that the form requires a login through your NYU email. (This will also enable you to edit the form after submission if changes are requested.)
Study Abroad Courses
Our department's Dr. Chris Dickey, in collaboration with UNICEF,  teaches the "

Behavioral Communication Strategies for Global Epidemics

" which focuses on the integration of three public health disciplines for emergency action: epidemiology, behavioral health/intervention research and public health communication to provide students with a knowledge base and foundation of skills to design and implement strategies in disease prevention and response in outbreak and humanitarian situations.

In collaboration with the Global Institute for Disease Elimination (GLIDE), the Global & Environmental Public Health Program developed a course titled, "

Disease Elimination and Eradication Strategies for Infectious Diseases in LMICs''

. This hybrid course took place from May 23 to June 20 and consisted of online modules on the principles and history of disease elimination and eradication, ethics and human rights, case studies on the prevention and treatment of neglected tropical diseases, integrated approaches to disease elimination and eradication, and an introduction to systems thinking. This was followed by an 8-day intensive live portion on the NYU Abu Dhabi campus which allowed for collaboration among students and practitioners from the field to develop and present a complete proposal for action towards the elimination or eradication of an infectious disease within a specific geographic context.
Applied Practice Experience
All MPH students are required to complete an

Applied Practice Experience (APE)

which includes 180 hours of hands-on public health practice. See

here

for a summary document and guiding information put together by the Applied Practice office.
General NYU Resources
Conferences and Seminars
Forecasting Healthy Futures (FHF) Global Summit 2023

 MARCH 14 - MARCH 16

This event is hosted by Malaria No More

The FHF Global Summit is an invite-only event that will convene diverse stakeholders in the health, climate, and technology sectors to improve our collective understanding of the health risks posed by climate change. Learn more about the Summit, submit an abstract for consideration, or request an invitation here.